Welcome to Grand Slam Fishing Lodge
Kinoosao, the Cree word for fish, is the setting for Grand Slam Lodge! Fish are something that we have in abundance!
I was born and raised in and around Kinoosao, Saskatchewan and have fished on Reindeer Lake all my life and have built and operated the fishing lodge since 1983.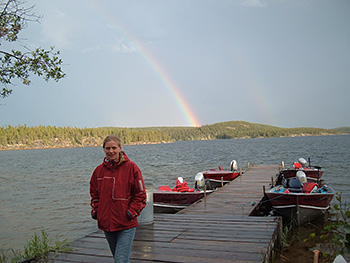 I named my fishing camp Grand Slam Lodge because we pride ourselves in providing our guests with access to four species of freshwater game fish: monster Northern Pike, tasty Walleye, large Lake Trout and feisty Grayling. Each year I have customers come to Grand Slam Lodge from Europe and all parts of North America and when they leave they all agree, "This is Truly World Class Fishing!"
Grand Slam Lodge is one of the few locations where you can drive to the shore of legendary Reindeer Lake. In fact you can drive right up to the front door of Grand Slam Lodge! Once there you'll stay in comfortable log cabins right on the lake.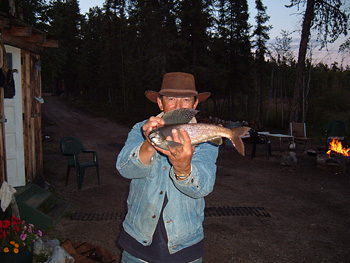 World-class fresh-water fishing, very accessible location, and priced to fit everyone's budget.
If it's fantastic Walleye fishing you're after we've got access to private lakes that will put you in the middle of some of the greatest walleye fishing you've ever experienced.
At Grand Slam Lodge, you'll feel comfortable — right at home, in fact. With the help of our knowledgeable and friendly guides, I promise we'll take you to some of the finest spots for freshwater fishing you've ever experienced.
Floyd Olson
Owner/Operator – Grand Slam Lodge