2018 Rates
Fishing
$275 plus tax/person/day
Package Includes:
Log cabin with kitchen - max 4 people
18-foot Alaskan Lund Boat with 50hp 4-stroke Honda motor
Gas and oil
Daily Shore Lunch
Expert local guide
Big Game Hunting - Bear Hunting 6 days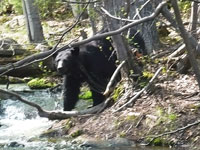 $2,000 plus tax/person for 2 hunters
Hunting alone $3,000 plus tax
Package Includes:
Fishing Package (above)
Skinning the animal
Big game licenses
All prices are based on double occupancy.
Log Cabin Rentals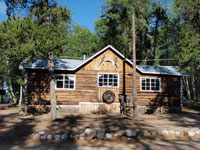 $75 per person per day plus taxes
More Information
Deposit required to confirm a reservation:
Black Bear $500/person
Angling $250/per group
What is included in the trips: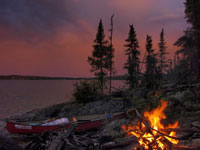 All prices are based on double occupancy and are in CDN dollars.
18-foot Alaskan Lunds with 50hp 4-stroke motors, gas and oil.
Log cabins including kitchen facilities. Guests bring their own food and sleeping bags.
Local guides with a lifetime of experience on Reindeer Lake. Your guide will cook your catch for shore lunch.
Hunting prices include game licenses. Big game hunting is not allowed on Sunday, so this is a good day to arrive.
Make deposit cheques payable to Grand Slam Lodge Ltd., final payment to be made in cash or travelers cheques on completion of your trip.
Wilderness Guided Adventures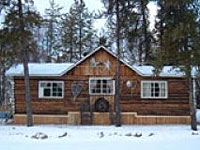 $200 plus tax/person per day, minimum of four people. Bring your own snowmobile and come feel the magic of winter in the Reindeer Lake area. Days are short and the spectacular northern lights come out dancing early. Relax beside a warm fire in your cozy cabin at night. Price includes a guide with his snowmobile, cabin for four, sightseeing and ice fishing. Fishing licenses and gas are available in Kinoosao. We require a deposit of $250/group for winter adventures.
Cancellation and Refund Policy: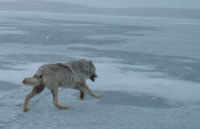 If you wish to cancel your trip 2 months or more before arrival date, a full refund shall apply to fishermen. Cancellations within two months will be 50% refundable. Cancellation of bear hunting trips are 50% refundable once the game license has been purchased due to non-refund of licenses. (Deposits and licenses may be transferable.) Refunds will be mailed within 30 days of cancellation.
Otherwise refunds are as follows:
Bear hunt $250
Fishing trip $125
Refunds will be mailed within 30 days of cancellation.