Saskatchewan Fishing Lodge
Welcome to Grand Slam Fishing Lodge
World-class fresh-water fishing in a road-accessible location priced to fit everyone's budget.
Kinoosao, the Cree word for fish, is the setting for Grand Slam Lodge! Fish are something that we have in abundance!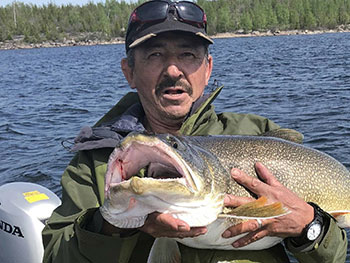 Raised on Reindeer Lake, Floyd has fished virtually every corner of the lake and began building the lodge in 1983.
Our guests from Europe and North America come for the world-class fishing of monster Saskatchewan Northern Pike, tasty Walleye, feisty Grayling and enormous Lake Trout, the 4 freshwater game fish that is the Grand Slam fishing experience!
Anglers can expect to have multiple hookups each day and plenty of opportunities to land the big one. Saskatchewan has incredible rugged natural beauty that has been preserved in time. Reindeer Lake is full of fish and provides an abundance of natural structure that we fish around to provide our guests with amazing fishing opportunities.
Northern Saskatchewan Drive in Fishing Lodges
Grand Slam Lodge is located at the end of the only road that takes you to the eastern shore of legendary Reindeer Lake, Canada. The road is part of your northern adventure, just like the old-timer's stories; the last mile to the best fishing narrows to a trail that takes you right to the door of your lake-front cabin. At Grand Slam Lodge, you'll feel right at home. We pride ourselves in having a strong repeat fishing clientele that continue to have an amazing time catching quality fish at our Saskatchewan fishing lodge each year. Please give us a call today to book with our Saskatchewan fishing lodge.
Reindeer Lake consists of over 5000 islands and countless reefs. Our local and friendly Reindeer lake fishing guides are experienced in navigating the waters of Reindeer Lake and will take you to some of the finest spots for the best freshwater-fishing you've ever experienced. Please join our fishing lodge on your next Saskatchewan fishing adventure and find out why our guests come back each year to do it again.
Your hosts,
Marianne and Floyd Olson